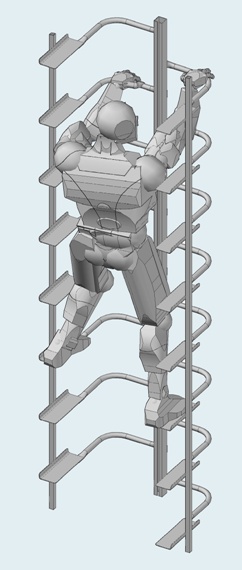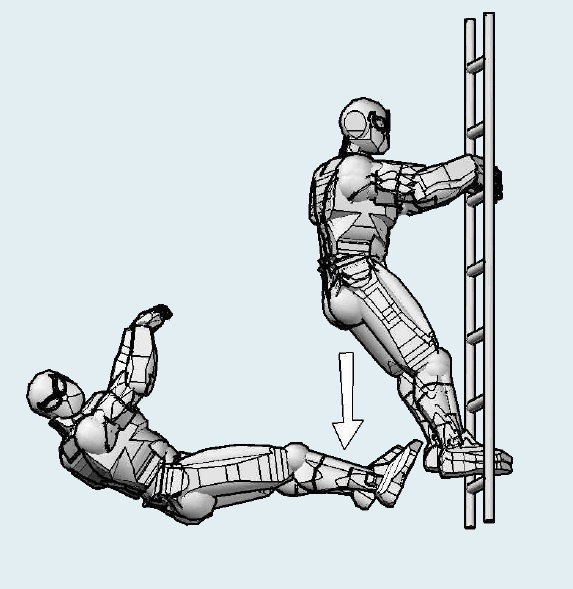 TWO PROBLEMS WITH CONVENTIONAL LONG VERTICAL LADDER DESIGN:
They are dangerous to climb - people fall off.
They are strenuous to climb - rest platforms are required [and mandatory] at regular intervals.
The reason for both problems is that the centre of gravity (COG) of the climber is not supported over the feet – it "hangs out" in space - away from the ladder. Gravity forces the body to rotate – around the fulcrum of the feet – and away from the ladder.

Only half of the bodyweight is supported on the stronger legs - the other half must hang by the arms. People can stand on their feet all day – but cannot hang by their arms for long. If you can no longer hold on [due to fatigue]; or carelessly miss grabbing a rung – then you fall backwards off the ladder.
THE SOLUTION OF THE VERTICAL STAIRWAY:
This design solves a major ergonomic problem for long ascents or descents; it is superior to all other vertical ladders

By supporting the climber's Centre Of Gravity directly over his feet – the forces that cause the climber to rotate away from the ladder are eliminated – and the load on the arms is transferred to the stronger legs.

Vertical Stairs are as easy to climb as other stairs. However conventional staircases are limited to a maximum incline of 75° - it is now possible to "walk straight up".

Personnel, who use fixed ladders regularly, [say] in wind towers and radio masts, will benefit from both the increased safety and reduced fatigue; as well as reduce the total time [and cost] to carry out the maintenance work.

Current Standards (worldwide) for fixed ladders on buildings require landings at regular intervals so as to provide rest areas. The costs of the landings are at least equivalent to the cost of the ladders and they take up considerable space. This design would eliminate the need for these landings – as every step is a landing.

Fire Escape Ladders - would be safer and less fatiguing for the people not used to using ladders - the elderly; unfit; injured or overweight.

I've had elderly people climb my mine shaft – they comment on how easy it is – how they couldn't have made it on a regular ladder – how nice it was to be able to stop and have a rest – and how you can just take your time. You CANNOT take your time on a regular vertical ladder because you are hanging by your arms, and it's exhausting.

Vertical Stairs as a cheaper alternative to fire stairs, may result in an increase in the number of fire escapes built, and save lives. The large and expensive fire stairs that zig-zag from landing to landing up the back of apartment blocks – might simply not be built due to the high cost – or lack of space - or because they look unsightly. This may be particularly relevant in the large cities in countries like China; India; Pakistan; Indonesia; Brazil and Mexico; where safety regulations and enforcement are less stringent.

Vertical Stairs are – SAFER – EASIER – and in many cases would be CHEAPER than current vertical ladders.


A FULLY SUPPORTED CENTRE OF GRAVITY